HFS 1.9 Vacuum Oven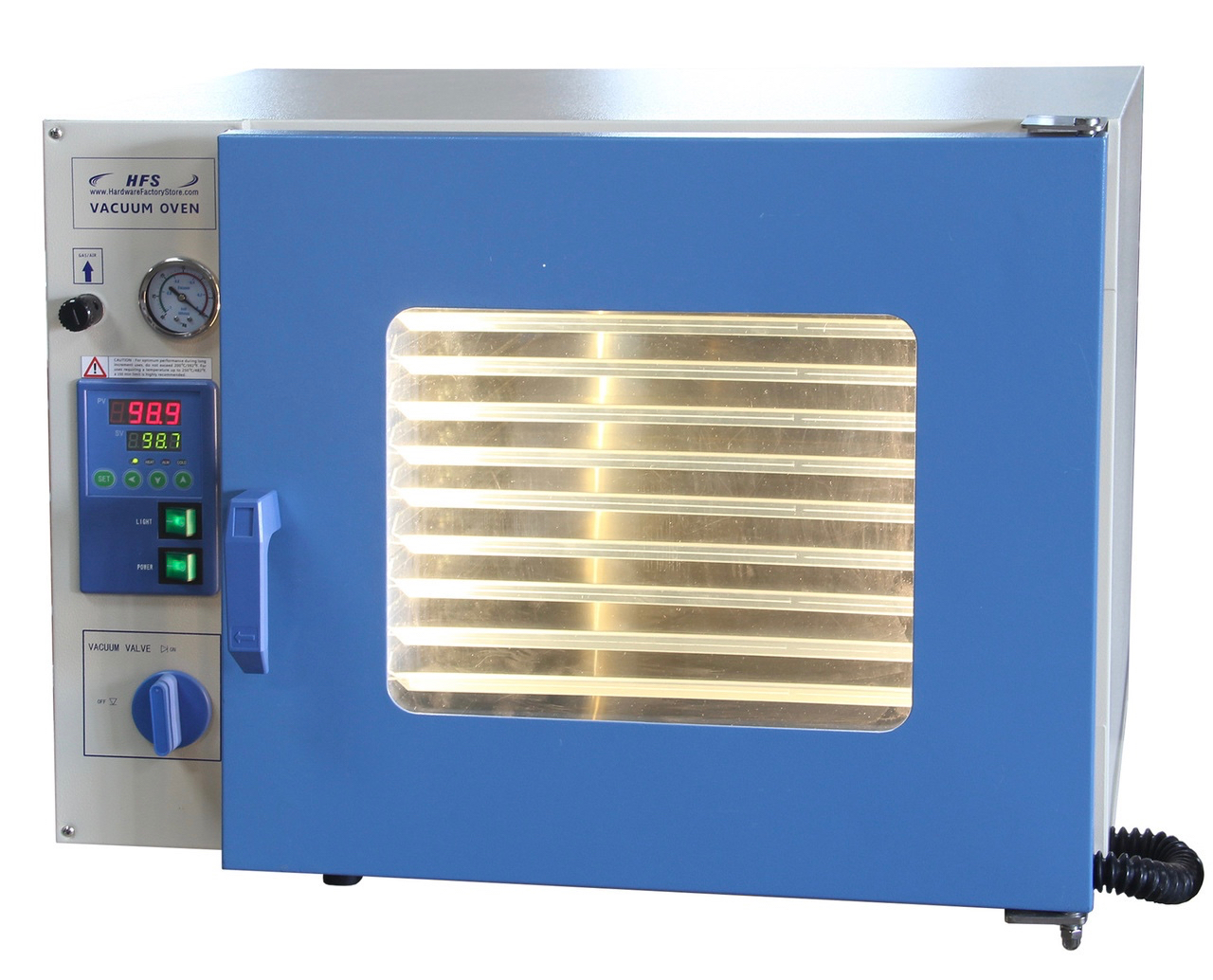 The HFS 1.9 Vacuum Oven features a 1.9 Cu-Ft stainless steel chamber, big enough to accommodate large samples on up to 10 shelves. A highly accurate heating rate and wide operating temperature allow for precise extraction and processing. Controlling the oven is a breeze with the easy-to-read digital control panel which displays temperature and time control settings. The Hg vacuum gauge allows for quick easy and vacuum level detection up to 30" Hg. The large access door on the front of the oven opens extremely wide, offering plenty of space for placing and removing samples. Each door is fitted with a 1/2" safety glass so you can view samples while they are extracting/degassing. A tight seal around the perimeter of the door ensures a solid vacuum with no loss of suction. The door handle has been re-designed to withstand the stress of daily use and is now 4x stronger than older models.

Features:
0-30" Hg gauge for quick vacuum level observation
1/2" safety glass viewing window
Integrated LED Lighting
Digital temperature and timer control with +- 1 degree accuracy
Stainless Steel inner chamber
4-Sided Heating - Left, Right, Bottom, Top
Standard KF-25 fitting for easy connectivity
10 solid aluminum shelves
Easy-to-use operation
No assembly required
Specifications:
Chamber Dimensions: 16"w x 14.5"d x 14"h
Chamber Material: Stainless Steel
Door Gasket Material: Silicone
Timer Range: 1-9999 minutes
Heater Power: 700 watts
Max Vacuum: 30" Hg (133 Pa)
Power Supply: 220V 60Hz
Power Cord: Standard US 3-Prong
Safety Designs: Circuit Breaker, Overheat Warning
Temperature Range: Room Temperature to 215°F
Temperature Accuracy: +/- 1°F
Unit Dimensions: 28"w x 22"d x 22"h
Weight: 170 Lbs
Vacuum Fitting: KF-25
No Reviews Yet
Be the first!
Customer Reviews
No Reviews Yet
Be the first!
Have You Used This Product?
Harvest Headquarters & Glass Gallery
Born in Humboldt