CMEP-OL Oil-less Explosion Proof Recovery Pump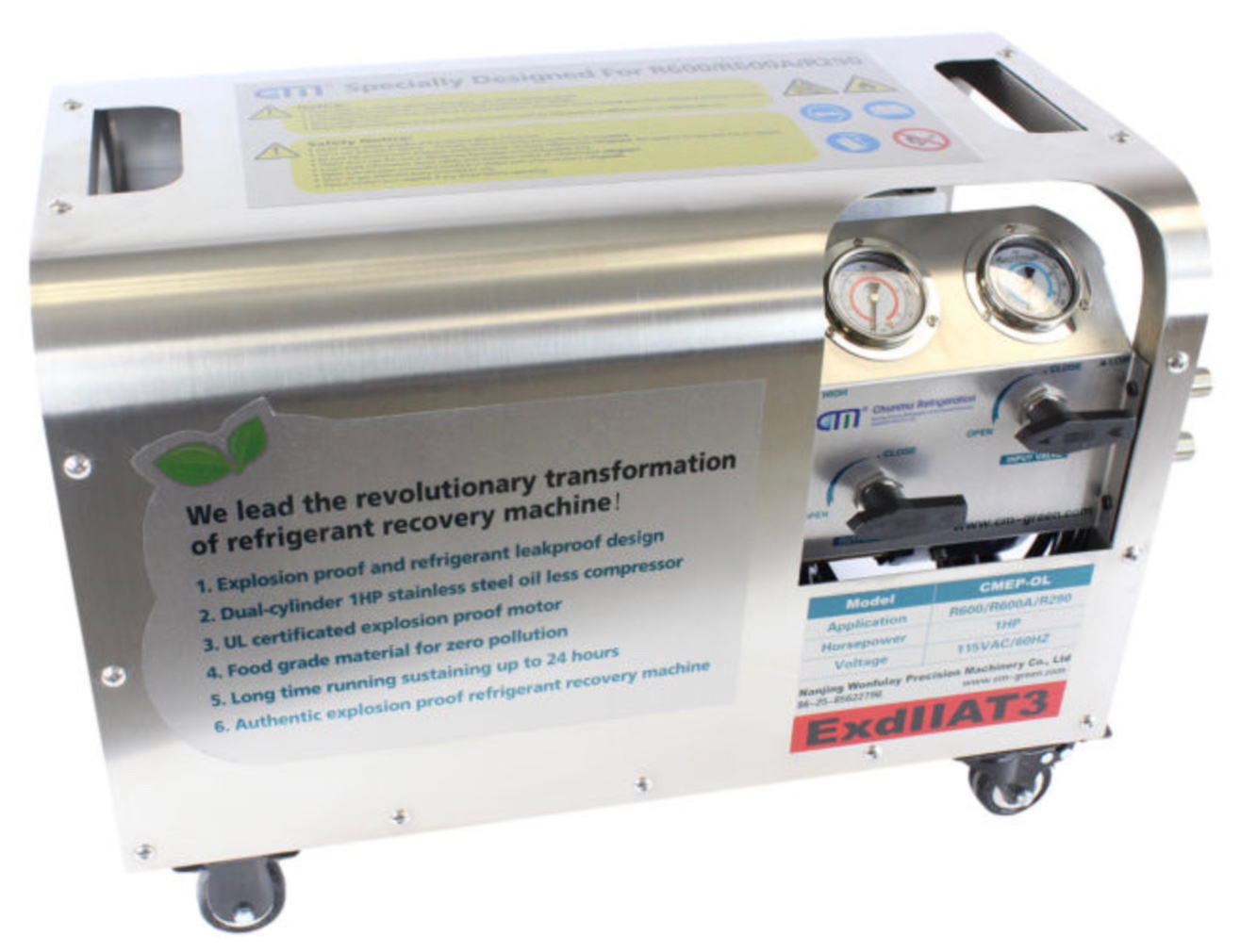 The CMEP-OL is the first oil-less explosion proof recovery pump in the world that has been specifically designed with the extraction industry in mind. Your safety and the safety of others are paramount, so you will be happy to know that the CMEP-OL meets UL explosion proof safety standards and uses only food safe internal components. All internal metal components on the CMEP-OL are made from stainless steel, same as a closed-loop extraction system. The seals are made from PTFE (Teflon), making them leak proof and impervious to hydrocarbon based refrigerants and solvents such as R600 (butane) and R290 (propane).
Features:
All stainless steel and PTFE components ensures your extracts don't get contaminated or polluted
Approved Refrigerants: R600, R600A, and R290
UL listed explosion proof motor provides sparkless operation
1HP stainless steel oil-less twin-cylinder compressor
Compressor gas displacement: 1.25CFM
Entire system specially designed for hydrocarbon recovery
Meets UL explosion proof standards
Engineered for 24-hour continuous duty working conditions
NEMA 7 electrical enclosure (explosion proof)
Includes carrying handles and casters for easy moving
3/8″ NPT inlet & outlet ports (1/4" SAE flare & 3/8" SAE flare adapters both included)
Fast vapor recovery rate: ≤157 lbs/h
Ultimate vacuum capability: -29.48"Hg
High pressure protection: 360 PSIG
Voltage: 115 VAC / 6.5 A / 60Hz
Power Consumption: 750 watts
Weight: 94 lbs
1 year manufacturer's warranty
No Reviews Yet
Be the first!
Customer Reviews
No Reviews Yet
Be the first!
Have You Used This Product?
Harvest Headquarters & Glass Gallery
Born in Humboldt