Across International CleanVac 11 CFM Compact Dry Scroll Pump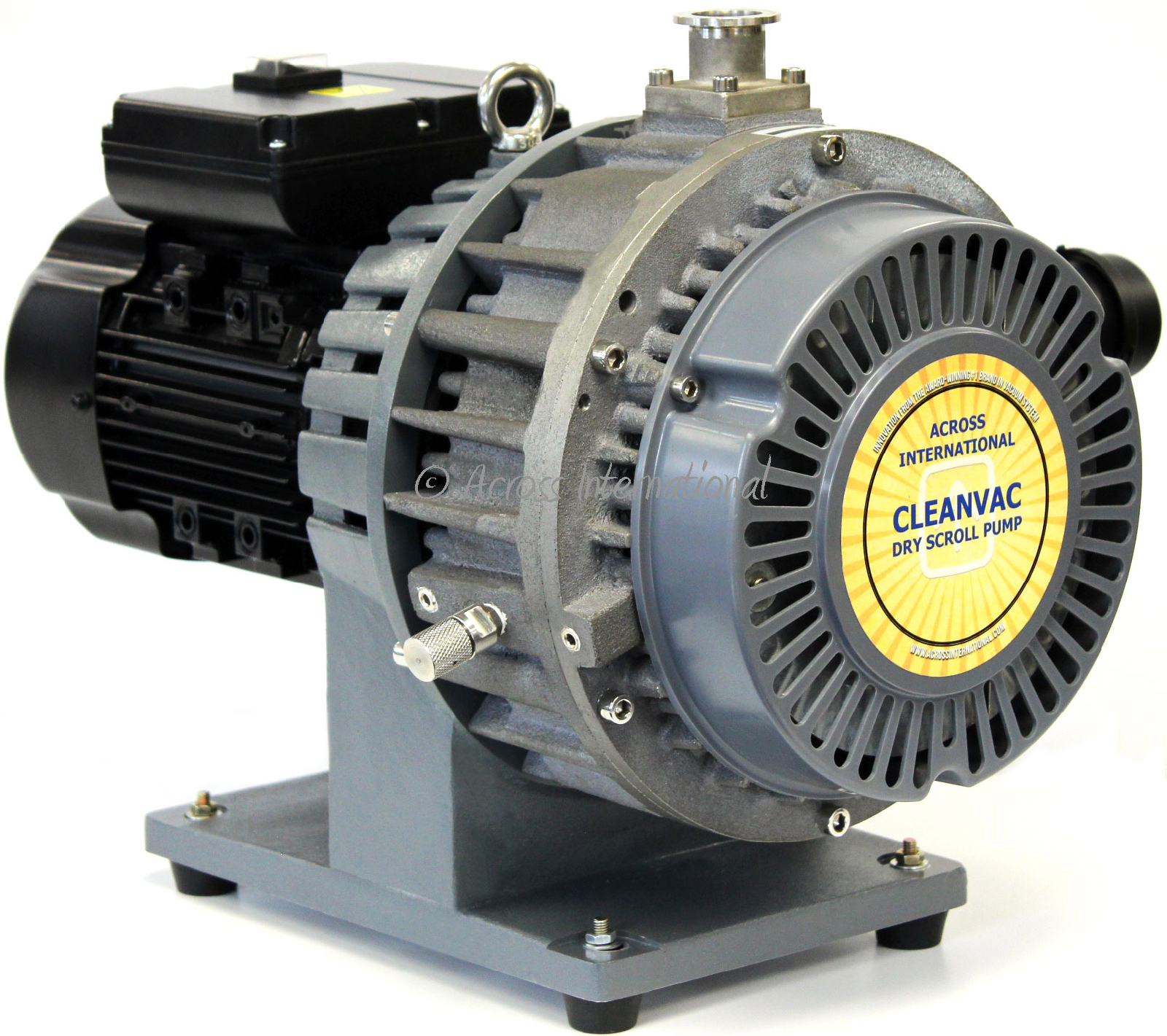 The new Across International CleanVac 11 CFM is a compact, lightweight, oil free dry scroll vacuum pump that will take your equipment's vacuum down to micron level in minutes. These scroll pumps are completely oil free with low ultimate pressures, low power consumption, low vibration and low noise. CleanVac offers a clean vacuum environment and eliminate the nuisance of cumbersome lubricant maintenance or sealing water administration. They are also free from installation restrictions because of its air-cooled system. The adjustable gas ballast pulls a slower vacuum by allowing dry air directly into the pump, diluting the vacuum pull and keeping moisture, solvents, and other contaminants from getting stuck in the pump. The CleanVac series scroll pumps also feature the latest in tip seal technology giving significantly longer life between tip seal changes. These pumps are designed for reliable long time continuous operation. They come standard with all necessary fittings and an exhaust filter/silencer.
Features:
Completely lubricant free and oil free means clean vacuum to prevent cross contamination
No tedious oil change or daily maintenance. No oil leak, oil back-flow or oil mist issues
Adjustable gas ballast
Exhaust filter/silencer with easy-to-change replaceable filter element
Heavy duty structure and designed for reliable long time operation
Low ultimate vacuum, low noise, low vibration and low power consumption
All necessary fittings and filter included for immediate use
One year standard manufacturer warranty
Specifications:
110v 60Hz single phase 550 watts  5 amps
Pump rate: 10.9 CFM
Ultimate vacuum without gas ballast: 19 micron
Inlet/outlet connection: KF25/NW25 flange
Motor: 1680 rpm
Working temperature 41°F to 104°F
Noise level: < 61 dB(A)
26" x 18" x 19"
70 Lb
No Reviews Yet
Be the first!
Customer Reviews
No Reviews Yet
Be the first!
Have You Used This Product?
Harvest Headquarters & Glass Gallery
Born in Humboldt